RUPTURE & BURSTING DISCS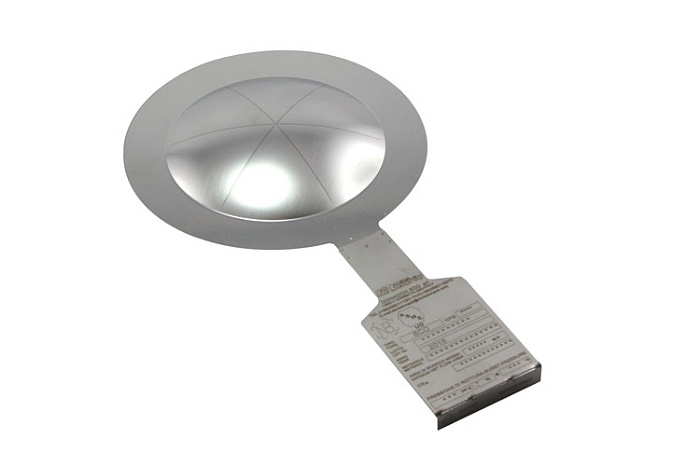 Managing instances of excessive pressure in industrial plants is a basic element of safety both for structures and technicians. Rupture discs are, as of today, the perfect tools to guarantee complete safety.
What is a Rupture Disc? How Does a Burst Disk Work?
Rupture discs are safety devices with the function of stopping sudden variations in pressure from damaging an industrial plant. They mainly consist of a thin membrane - which can be made of several different materials, depending on the exact situation – which is designed to break and open when the specific level of differential pressure rises above the resistance limit that the disc was originally calibrated for, so as to allow for the excess pressure to vent out safely.
Rupture discs are devices that perform the same basic function as safety valves. The main difference however being that they intervene as a result of the differential pressure to which they are subjected but then they cannot be re-closed (in fact, they must be replaced once opened).
Typically, bursting discs are devices composed of an assembly that also includes a special container called holder and, when necessary, other components such as: a vacuum or back pressure support, a reinforcement ring, a rupture indicator, etc.
Rupture discs are pressure-tight devices designed to open by means of rupture at a pre-predetermined pressure value. There are different types of rupture discs manufactured in corrosion resistant metals or in graphite. They can cover a wide range of sizes, rupture pressures and operating temperatures.
Why Choose Donadon Rupture Discs
DonadonSDD has chosen to make rupture & bursting disks it stop product, and develops a vast series of all the most commonly required variants for all different applications, often doing custom work to design the perfect disc for a customer's specific need.
DonadonSDD constantly invests in development of new manufacturing technologies and specially in production of burst discs with a totally laser based process. The laser manufacturing process is a patented breakthrough innovation that has allowed to position DonadonSDD on the world front line of rupture disc technology.
The extreme production customization allows to calibrate the DonadonSDD burst discs from ultra-low pressure (5 millibar) up to 1150 bar, taking also into account size and material. Testing equipment allow to certify rupture discs from few millimeters up to DN 40"(1000) and to perform testing both at low temperature (down to -196°C) and at high temperature (up to 700°C).
DonadonSDD Rupture discs have many advantages:
They are fast to manufacture thanks to our patented technology.
They are often the most economical solution with respect to other types of pressure relief devices (especially when it is necessary to utilise particularly expensive materials or to ensure high discharge areas).
They are available in a wide range of sizes, materials and calibration pressures.
They have low maintenance costs.
They have no components in relative motion to each other and therefore guarantee faster intervention times than other pressure relief safety devices.
They ensure an excellent level of system sealing, thus helping to reduce the risk of fugitive emissions of toxic, dangerous or precious substances.
They make it possible to isolate the safety valve from contact with corrosive or fouling fluids.
Our Rupture Discs
Here are the categories of rupture & bursting disks and accessories which we manufacture for our customers:
Contact us today for more information regarding our rupture & burst discs!